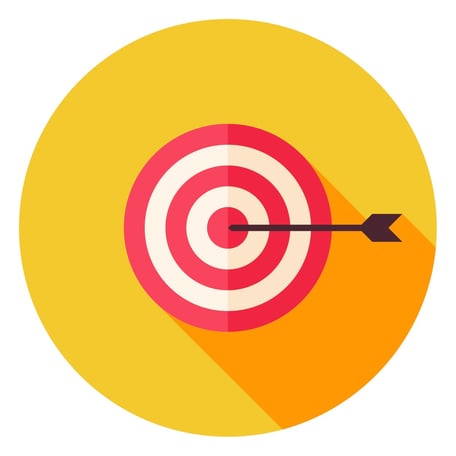 "Targeted digital education" is a term we use often to describe how hospitals need to communicate with patients about their care. With so many healthcare terms and different meanings being tossed around, let's take a closer look at what we mean by targeted digital education and how it prepares patients for better outcomes.
Emphasis on "Targeted"
Targeted is the keyword here. A target is a precise mark, a bull's eye or pin point. It's not something for just anyone at any given point in time. It is information uniquely relevant to a specific person or group that is strategically shared at a specific time.
To translate that concept into healthcare terms, let's take the example of Joan, a woman having hip replacement surgery. She doesn't need all the information on her pre-op instructions, hospital stay and discharge all at once. That's not only overwhelming; it's ineffective.
What Joan does need is targeted digital education—the right health information at the right time. Joan needs hospital prep information, beginning as soon as her surgery is scheduled, months before her surgery date. The guidance she needs will evolve during the weeks leading up to surgery, the days before she checks in, her hospital stay, and her recovery back at home.
This adds up to a lot of information. If Joan's doctors want to keep her engaged in her care, they should only expect her to think about the next step or two in her care continuum.
It's all in the timing
Fortunately, technology makes it easy for hospitals to automatically give patients just the information they need to know—timed perfectly to their care paths and without any extra work from doctors or hospital staff.
UbiCare's SmarteXp delivery schedules are designed to meet patients' needs.
Expectant parents and their families receive educational messages from your hospital based on the baby's exact due date. That means that on the day an expectant mom in your patient population reaches 20 weeks of pregnancy, she'll receive your hospital's message about what she needs to know that week. Or perhaps your patient's toddler is turning 2; the patient will receive a supportive message from your hospital on her child's birthday, with information specific to this milestone for the family.
That's the power of targeted digital education.
Let's revisit Joan. Suppose her hospital schedules her hip replacement surgery earlier than expected. Joan needs all the right pre-op information to be best prepared for surgery. Whether her surgery is scheduled in 6 weeks, 4 weeks or even sooner, UbiCare's SmarteXp technology adjusts to deliver all the educational messages Joan needs beforehand, so that she's less anxious and more prepared for her medical procedure. After surgery, Joan will continue getting guidance from her hospital—pinpointed to just the right time in her care continuum.
---
In today's healthcare environment, there is so much that your patients need to know. If you don't educate and engage them, they may search online for what they need, ending up with unreliable information about their health condition and care.
That's why targeting is more important than ever.
Your challenge is not only to share education with patients, and not only to do this digitally. You need to time your digital education to the exact moment your patients need it.