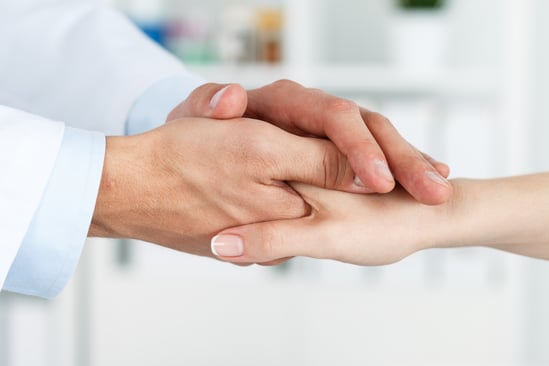 Comprehensive Care for Joint Replacement (CJR), the latest bundled payment initiative from the Centers for Medicare and Medicaid Services (CMS), has now been underway for three months. If your hospital is among the 790 required to participate, you may already know that building and leveraging patient relationships is key to getting the highest CMS reimbursements.
Even if you aren't a participant at this point, CJR and similar programs from CMS will likely expand. Paying attention now may be worth it in the long run.
Under CJR, hospitals are responsible for the cost and care quality of hip and knee replacements—starting with the surgery and hospital stay, and continuing for 90 days post-discharge for rehabilitation and recovery. CMS will reward hospitals that do well, in terms of cost and care quality, with more money. And it will penalize those that don't, making them repay a portion of their reimbursements.
Patient satisfaction is one way CMS will evaluate care quality under CJR. And because the agency already requires hospitals to connect with patients digitally, through their Electronic Health Records, an effective way to develop and nurture patient satisfaction is also through digital communication.
Read on to learn how!
HCAHPS scores are the primary measure of a hospital's performance from the patients' perspective. CMS puts a huge amount of weight on HCAHPS scores in CJR, requiring hospitals to score in the 30th percentile or higher nationally to keep their reimbursements. Digital communication can have a big impact on how patients rate your hospital on HCAHPS.
Educating and Engaging Your Patients
HCAHPS asks patients to rate all aspects of their care, including how well providers communicate with them about their discharge plans, whether they're going home or to a rehab facility. It's important that you effectively communicate relevant health information before, during and after any medical procedure and—particularly under CJR—long before patients are offered a choice or told where they will go after discharge.
This kind of pre-op communication benefits patients, their families, the care team and the hospital. It's an important step toward patient satisfaction, and it can be done digitally with messages that provide both health education and patient engagement.
Digital communication can also reinforce and remind patients about what to expect during recovery, how to handle pain management, potential complications to watch for and how to make the most of rehab exercises.
Using technology to connect and communicate with patients before, during and after surgery has many benefits, including:
Reinforcing hospital discharge and rehab instructions
Reminding patients about symptoms of potential complications to watch for
Easing patients' anxiety about their recovery
Anticipating and answering FAQs
Saving hospital staff time and money by efficiently providing information that might otherwise require phone calls to healthcare staff, or, if not delivered in a timely fashion, lead to readmission due to unrecognized complications, etc.
Educating patients before, during and after joint surgery sets them up for better outcomes. That leads to improved patient satisfaction scores for your hospital and, ultimately, the CMS reimbursements you deserve!
Adapted from the white paper, CJR & MACRA….Connected? Download the white paper for more information on how technology and digital communication can help hospitals meet patient care-quality standards.