---
Engaging patients in their treatment plan and follow-up care is "very important" to improving patient care.
This is according to 96% of nearly 3,000 M.D.s interviewed for athenahealth's Epocrates Interoperation Research Study (4/10/15), conducted by EAS Planning.
Of course, this is important and very likely it has always been true for our nation's docs. In the past, it was achieved through face-to-face interaction. Now these same things can be done digitally—if you choose your patient engagement solutions wisely.
---
Here are my top 5 tips for engaging patients and improving patient care:
1. Make sure it's a push strategy.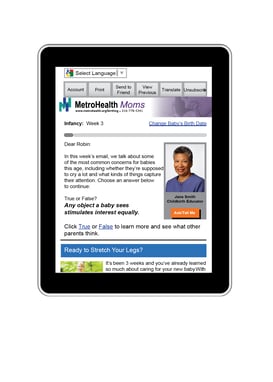 That means—unlike a website or patient portal, which you can't expect patients to visit again and again—you must deliver to them what they need, when they need it.
2. It must be before, during and after their procedure or hospital stay.
Research shows that patients learn too little, too late, if the important information is all concentrated at the bedside. Plus, patients are distracted or, worse, totally preoccupied at that time and not receptive to retaining information.
3. Make sure that whatever you deliver to engage your patients is of high value to them.
And, remember, more often that not, less is more.
4

. Meanwhile, don't lose sight of the fact that your patient engagement solutions must work easily and flexibly for M.D.'s, nurses and staff.
If not, they will not be adopted!
5

. You must be able to prove impact—in real time.
That is a key part of patient engagement strategy. It is the results that prove you have engaged the patients in their treatment and follow-up care plans. Plus, when success is shared with the stakeholders, as well as patients and the community, it improves satisfaction and reputation.
---