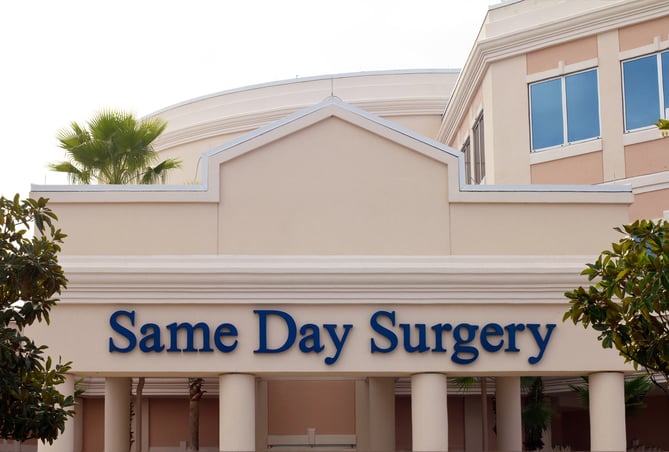 The Centers for Medicare & Medicaid Services (CMS) gave hospitals an early holiday gift with its recent decision to provide Medicare coverage for outpatient total knee replacements.
In November, CMS removed total knee arthroplasty (TKA) from its inpatient-only list, effectively allowing eligible Medicare patients to have the surgery in hospital outpatient departments beginning January 2018. It did not, however, add TKAs to its list of payable procedures at ambulatory surgical centers (ASCs).
That gives hospitals an important head start on a growing outpatient competitor lobbying hard for the federal agency's blessing.
CMS has said it will continue to review the safety and feasibility of total joint replacements at ASCs, language that usually signals more change is coming. If the agency does eventually cover the procedures at ASCs, it will pose a significant threat to hospital revenue.
Total hip and total knee replacements are currently the two most common inpatient surgeries for Medicare patients, making them lucrative procedures for hospitals. In 2014, CMS paid out more than $7 billion in hospitalization costs alone for more than 400,000 Medicare patients undergoing a total joint replacement.
Download: A Digital Strategy for Succeeding in Care, Cost & Quality
The Appeal of ASCs
Regardless of any action CMS eventually takes, the march toward ASC joint replacements—both knee and hip, which CMS has so far declined to cover in any outpatient setting—is well underway. More than 200 ASCs nationwide currently offer total joint replacements, up from just 25 three years ago, according to the Ambulatory Surgery Center Association.
ASCs typically have strict eligibility guidelines, approving joint replacement surgeries for only the healthiest of patients—physically active people without comorbidities who are also motivated for fast post-op recovery. Surgeons and ASC administrators credit improvements in medical technology, surgical technique, anesthesia and pain control for getting these patients up, moving around and headed home within a few hours of a total joint replacement—all at a touted cost of up to 50% less than the same surgeries performed in the hospital.
That's a big, attractive difference for price-conscious patients, private insurers, and potentially for CMS as it tries to rein in the widely varying costs of these surgeries in hospitals nationwide.
Healthcare analytics firm Sg2 has projected that 52% of all primary TKAs will be performed in outpatient settings by 2026. At first, the firm predicts, most will occur in hospital outpatient departments due to safety concerns, higher reimbursements and more available resources. But with lower-cost joint replacements on the rise at ASCs, hospitals will need to figure out how to stem the flow of patients to these independent competitors.
Some already have. Major urban hospitals, such as NYU Langone, and multi-hospital health systems such as New Jersey's AtlantiCare, are already performing total joint replacements in their outpatient departments, or plan to add joint-replacement ASCs to their campuses. Often the lead advocate for these same-day procedures is a dedicated surgeon convinced that, with the right patient, it's not just possible—it's the right thing to do.
At Becker's annual meeting for ASCs in October, Stan Dysart, M.D., medical director of Adult Reconstruction at WellStar Kennestone Regional Medical Center in Marietta, GA, said patient expectations of multi-day post-op hospital stays, followed by discharges to skilled nursing facilities (rather than home) for recovery, posed a much bigger issue three years ago.
"Now patients just want to go home," he said, and predicted that plenty of healthy Medicare patients would do just fine heading home a few hours after outpatient joint replacement surgery.
CMS's green light for outpatient total knee replacements at hospitals gives them a golden opportunity to keep a significant patient population on their campuses and a huge revenue stream in their coffers.
---
Keeping total joint replacement patients loyal to hospitals, rather than independent surgery centers, will take more than a nod from CMS. Watch for future blog posts on this issue to learn why timed, targeted patient education and engagement is crucial in outpatient settings—for both patient and provider.