T. Berry Brazelton understood the value of connecting with his patients—and their parents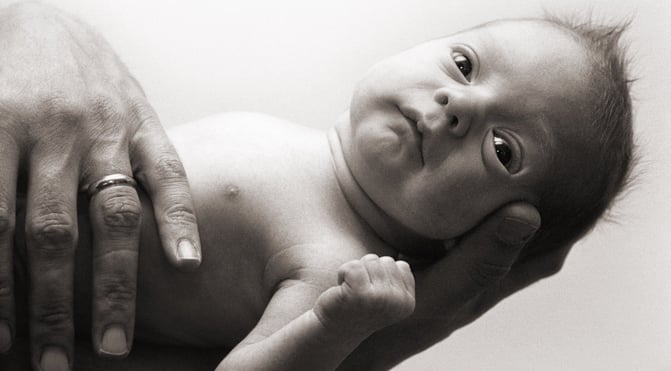 T. Berry Brazelton, M.D., had an extraordinary knack for interpreting the needs of infants and young children. But his greatest gift may have been the ability to zero in on the stress and anxiety of American parents, offering them just the right dose of comfort, acknowledgement and information.
All without ever really telling them what to do.
"I do not believe in telling people how to parent," he once told me during an interview. "I don't like parenting courses. I don't think they really serve a purpose, and, in a way, they are negative. They say, 'We know how to do it and you don't.'
"I would rather expose what's going on with the child and then what's going on with the parent, and let them put the two together and see how to make sense of it."
With Brazelton's passing yesterday (2 months shy of his 100th birthday), children, parents, pediatricians and child development experts worldwide have lost a beloved caregiver and advocate. Following on the heels of revered child development expert Benjamin Spock, M.D., Brazelton has been called the nation's last great parenting icon.
The best-selling author of more than 30 books and more than 200 scholarly papers, Brazelton believed that connecting more effectively with parents would help them connect with and care more effectively for their children.
Born in Texas, he began practicing as a pediatrician in the 1950s, caring for patients in an office attached to his Cambridge, Mass., home and as a developmental pediatrics expert at Harvard University and Boston Children's Hospital, where he holds the title of clinical professor of pediatrics emeritus to this day. Well into his 90s, he lectured, wrote, researched and was frequently consulted by the news media on everything from parenting, to work-life balance, to helping children through the crisis of the 9/11 terrorist attacks.

Brazelton (center) is shown here with UbiCare Founder and CEO Betsy Weaver, Ed.D., and Leonard Rappaport, M.D., M.S., chief of the Division of Developmental Medicine at Boston Children's Hospital and UbiCare's national medical advisor.
In 1973, Brazelton developed the Neonatal Behavioral Assessment Scale, a test given in the first weeks of life to evaluate newborn abilities. The scale produces scores assessing a baby's strengths, adaptive responses and even possible vulnerabilities.
Brazelton's many books include Infants and Mothers (1983), Touchpoints – Your Child's Emotional and Behavioral Development (1994) and The Irreducible Needs of Children, co-authored with Stanley Greenspan, M.D., in 2000.
His signature book series, Touchpoints, spawned a new way of thinking about children—namely that every milestone a child achieves comes with a temporary regression in other areas.
At Boston Children's, two institutes bear his name—the Brazelton Touchpoints Center, which trains child health and development professionals in his principles, and the education- and research-focused Brazelton Institute.
All these achievements aside, many people will remember a man with an instinctive understanding of children and their parents:
The stressed mother, exasperated by her toddler's behavior in a supermarket, who burst into tears of relief when Brazelton approached with the gentle observation, "Parenting is so hard, isn't it?"
The packed audiences of parents and professionals awed to silence as Brazelton lifted his cupped hands, smiled and cooed while describing the amazing abilities of each tiny newborn.
In a fast-paced world with increasingly high-tech, complex healthcare, we all can learn from Brazelton's lessons on the most effective care—the kind that connects provider and patient, pediatrician and parent, in a reassuring, understanding—and quintessentially human way.