The long-awaited Comprehensive Care for Joint Replacement initiative (CJR) became reality on April 1, 2016. Under CJR, hospitals must find ways to rein in costs, reduce complications and improve patient outcomes for hip and knee replacements—the most common joint-replacement procedures—in order to receive maximum reimbursements from the Centers for Medicare & Medicaid Services (CMS).
With CJR, CMS reaffirms its belief that the way to control costs and improve patient health is for hospitals to manage the entire episode of care—before, during and after a hospital stay. Success in an era of accountable care that values reduced costs, patient experience and improved population health requires flexibility and innovation from both hospitals and their partners.
At UbiCare, we always look for new ways to work with others who are as passionate about changing the world of healthcare as we are. As part of our commitment to innovation in patient education and engagement, we are partnering with the Startup Institute to incorporate fresh ideas and new perspectives into our cutting-edge hospital solutions.
The Startup Institute is an eight-week immersive program that gives people the skills, mindset and network to find a job they love, doing work that matters. The team working with us will focus on issues at the forefront of healthcare today, with a special emphasis on joint replacement surgery, Autism Spectrum Disorder and concussion.
Patient education is a proven way to lower readmission rates up to 40%. Patients who are more prepared pre-surgery report better quality of life post-surgery. The infographic below explains how—and shares some of the critical health information you need to communicate to joint-replacement patients before, during and after surgery.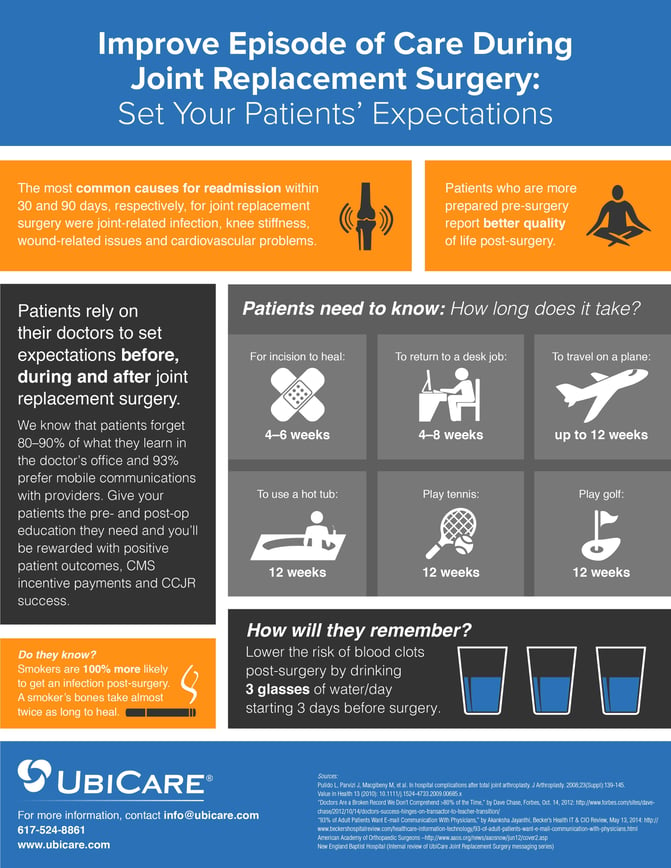 Explore UbiCare's patient engagement solutions for Total Joint Replacement Surgery, Autism Spectrum Disorder and Concussion, just a few of our healthcare service lines.
And if you'd like to learn more about how to succeed at CJR, download our whitepaper.