This week, CMS released its final rule for Comprehensive Care for Joint Replacement (CJR), putting 790 hospitals on notice that hip and knee replacement reimbursements from the nation's largest insurer will be tied to cost containment and high standards for patient care.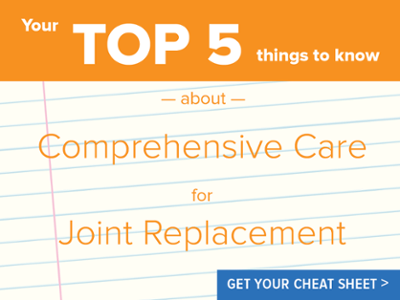 CMS plans to test the initiative at those hospitals—selected from 67 metropolitan statistical areas (MSAs) because of their widely varying costs for joint replacement—over the next 5 years, from April 1, 2016, through Dec. 31, 2020. Under CJR, participating hospitals will be held accountable for patient care from a hip or knee replacement procedure (the two most common inpatient surgeries for Medicare patients) through 90 days post-discharge.
Essentially, CJR puts hospitals in a risk-or-reward situation. Those that meet cost and care-quality standards (for patient satisfaction and fewer complications) will be rewarded with the highest CMS reimbursements for hip and knee replacements. Beginning in year 2 of CJR, however, hospitals that don't meet these standards risk having to repay some of their CMS reimbursements.
These hospitals aren't just responsible for the cost and quality of care within their own walls. CJR also holds them responsible for costs and patient care quality at any physician practices and rehab programs the patient uses post-discharge out through 90 days.
It's a tall order. But whether your hospital is participating or not, if CJR succeeds, it's likely that all hospitals with joint replacement services will be brought into the fold and other similar bundled-payment requirements from CMS will follow.
Responding to Its Critics
After initially proposing CJR in July, CMS reviewed nearly 400 public comments (see more on these here) before issuing its final ruling on Nov. 16. The agency made what it calls "major" changes in the final rule, but the takeaway for CJR remains the same: Hospitals must focus on and coordinate care inside and outside their walls if they are to succeed in an era of accountable care—that is, care that values patient experience, reduced cost and improved population health.
Here are the most notable highlights of the final CJR rule:
Hospitals get just a bit more time to prepare.
Among the biggest changes in the final rule is the delayed start date. What was initially proposed to take effect Jan. 1, 2016, has been pushed back 3 months to April 1, 2016. But that's a small concession on the part of CMS, considering that some commenters had asked that the program be delayed until 2017.
In allowing 3 additional months, CMS stated that the April 1 start date should give hospitals plenty of time to prepare. Does it?
It all comes back to what we said in our recent white paper—that hospitals need to prepare now for bundled-payment plans like CJR, whether they're among the 790 mandated to participate in this one or not.
With this final rule, CMS reaffirms its belief that the way to control costs and improve patient care is to manage the entire episode of care—in this case, from a hip or knee replacement procedure out through 90 days of recovery.
CMS also asserts both its authority and its commitment to pulling hospitals into initiatives that accomplish the Triple Aim—with little notice and with high expectations for success.
Fewer metropolitan areas are required to participate.
The final CJR rule lowers the number of metropolitan statistical areas (MSAs) with required participant hospitals from 75 to 67. Eight fewer MSAs aside, the final number of hospitals required to participate in CJR (790) hasn't changed much from the original proposal. That again demonstrates CMS's commitment to seriously test the effectiveness of replacing healthcare's fee-for-service model with one that values the quality of patient care.
The Bottom Line
Like it or not, CMS has set an ambitious precedent for mandating hospital participation in its value-based initiatives. The sooner hospitals accept that this is the way of the future, the faster they can start to prepare.
In doing so, they might want to keep this in mind: While CJR requires that hospitals manage patient care from a procedure out through 3 months of recovery, we would argue that the best way to ensure success with any medical procedure is to manage the entire episode of care—guiding and preparing a patient before, during and after a hospital stay.
Ultimately, setting patient expectations early in a care episode impacts complications, hospital readmissions and overall patient satisfaction.